NEWS ARCHIVE
---
December 26, 2009
Bolivian radio station plays BeApple
Following our series of performances in Buenos Aires even Bolivian radio pays extensive attention to BeApple.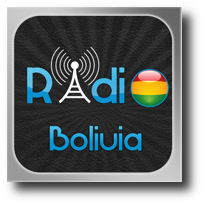 ---
December 7, 2009
Back home in winter Holland
And again "a great experience richer" as we say in the Netherlands. Playing on a different continent was much more fun than we expected. The long journey was forgotten the moment you step off the plane. The Beatles music is universal, as was evident again. We were very warmly welcomed in Buenos Aires and the Argentinians have appreciated our performances very much. For us it was a privilege to be on stage with by now befriended bands and musicians like Nube 9, Dark Horse, Jan Britten Owen, Magical Mystery Band and Nowhere Band. Soon we will launch a separate page about our Buenos Aires trip including pics, short movies, clips, etc.
---
November 23, 2009
Buenos Aires here we come !
Some two short days for departure. Our suitcases are packed. Guitars, accordion and some little additional things, we couldn't really take anything extra with us. Lucky us, we can count on an average temperature of 25 degrees over there so this gives us just that extra space we need in our trunk. All appointments are being made. We already installed the skype phone. With only a long distance flight in advance BeApple is ready for it. Of course we are going to do our upper best to keep you informed about this adventure as 'live' as we can.
---
November 17, 2009
BeApple a semana Beatle de Latino America
Your eyes don't mislead you. This is also no joke. By invitation of the Cavern Buenos Aires we play at the ninth 'Semana Beatle at 'el Beatle Café de Latino América' from November 26 for four nights in a row. BeApple is Hollands first Beatleband ever on stage in Argentina. Just recovered from our Liverpool experience there was this special request. Much sooner than we ever could imagine our agenda was again filled with some amazing gigs. This year can't go wrong anymore for BeApple. This also means that expectations for 2010 will be much higher. No deal for us with this kind of challenges in sight. First we do our upper best to inform you as good as it gets about this long distance adventure.
Mind this! There are still some 'Beapple People Yeah T-shirts' left from our 2009 Liverpool gigs. If you like being part of the Beapple People community, get one (as long as there are in stock) at: this link (Sorry,sold out!)
---
October 7, 2009
"Tell our listeners about Liverpool …"
Again we are invited by Radio Station Helmond. This time, following our series of gigs in Liverpool.
---
September 27, 2009
BeApple at sold out 'Night Of The Pier' festival!
After a series of very successful gigs in Liverpool last august, BeApple is back on stage in the Netherlands. Playing for a full house Saturday, October 3 at the Night Of The Pier it might be to late to get your tickets. So don't hesitate and contact Gasterij de Pier Schansweg 3 – Uden, Phone: 0031 413 – 26 59 30.
Mind this! There are still some 'Beapple People Yeah T-shirts' left from our Liverpool gigs. If you like being part of the Beapple People community, buy one (as long as there are in stock) at this link. (sorry,sold out!)
In the meanwhile we fill in our agenda with new exciting gigs.
---
September 6, 2009
First impressions of Liverpool
Beatles week 2009 has been a great success! The first day we were asked, unexpectedly, to start at the one and only, most famous stage at The Cavern Club, instead of in the pub opposite. The atmosphere there and the feeling we had was almost indescribable. For an impression, please refer to our photo page on this website. There are also og photo's, even more photo's and uploaded movies from the 'BeApple People' (our loyal supporters). In addition, a special Liverpool blog can be find there.
BeApple is one of the last bands ever performing at the famous Jacaranda during Beatles Week, tiny and packed, and therefore no longer safe, secure and justified. From 2010 there will be no gigs planned during Beatles Week; "Lucky us!".
---
August 23, 2009
BeApple counts down to The Cavern Club !
"… This concert (2007 march 16) marks a new phase in the existence of BeApple and it is the first in a range which should, as a climax, lead up to a concert in The Cavern Club in Liverpool." as quoted at our biography.
And now in 2009, three days from now 'you see us standing there', a new highlight in the young BeApple life.
At the same time BeApple releases its new multimedia CD 'Live and More' (volume one) in Liverpool. An unique document with the perfect highlights of the first almost three years. Be sure to get a copy at one of our gigs or via contact@beapple.nl mentioning CD 'Live and More' for £ 4,50 plus forwarding-charges. Or use this form.
What has been named a climax in 2007, is now a starting point for new challenges. Make sure you're there!
---
June 27, 2009
BeApple Live for two hours at 'Peel Sessions'
Before we definitely start preparing the nine gigs for Liverpool during the 'Let It Be Liverpool – International Beatle Week Festival August 2009', we want to play once again the way we like best. After a fantastic and very energetic gig last Saturday in Delft (The Netherlands) for a huge audience we play in Boekel (also The Netherlands) this Saturday, July 4, just some minutes away from home. A full gig, some two hours! Serve you right compared with the bigger stages we did last months where we hardly could play much longer than just 45 minutes each. The 'Peel Session' is an easy accessible music and dance event with just the best 60-70-80 music played live! We will be there, you too? Admission free.
BoekelsVen – Peelstraat 28 – 5427 EG – Boekel (The Netherlands). Read more at http://www.peelsessie.nl
Check our gigs list for the BeApple 'Ticket to Liverpool 2009 tour' !
---
June 20, 2009
BeApple opens at 'Ontspoord Festival' in Delft
We just went away for some weeks to start preparations accurate for our soon to come Liverpool gigs. Therefore we had to skip some gigs and move up some others. But of course we also didn't want to miss a few of them in this period among which the Delft (The Netherlands) 'Ontspoord Festival', Saturday, June 27. Starting at 8.30 PM, BeApple will bang the roof of the former railtrack site in Delft which will be dismantled soon after the festival. Tickets at the door 7.50 euro, advance booking 5,00 euro.
Be there!
Check our gigs list for the BeApple 'Ticket to Liverpool 2009 tour' !
---
May 19, 2009
BeApple Speaks
We were asked to come back for a radio interview at Radio Station Helmond, where they remain loyal to us. Cees was absent but that didn't spoil the fun.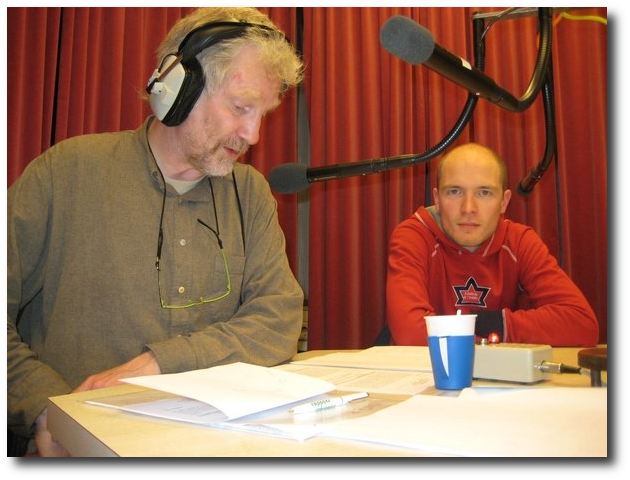 ---
May 4, 2009
BeApple plays at 'Liverpool Beatle Week 2009'
October 2006, we started with : a dreamed goal, performing at the Cavern Club in Liverpool, even if only once. The stage of the Beatles, where it all began. The mecca for all Beatles fans. We did not dare to be firmer than 'only once'. Perhaps this goal was more intended to really get to know each other and thus to find out whether BeApple could become something serious. A sure thing was we met each other only on the Internet, did'nt know eachother.
It is now impossible, a small two years later, to imagine the Beatles cover band scene without BeApple. And … we go to the Cavern Club during the '2009 International Beatles Week', http://beatlesfestival.co.uk/.
This year also will be the year that a new BeApple 'ever' goal should be formulated. You can help us with that. Go to the guestbook and send your idea to us.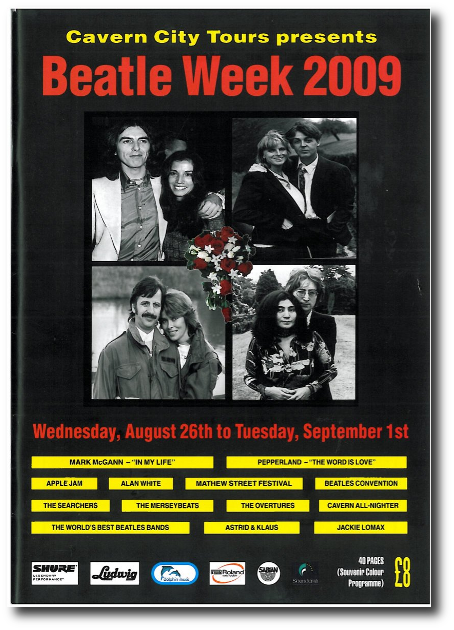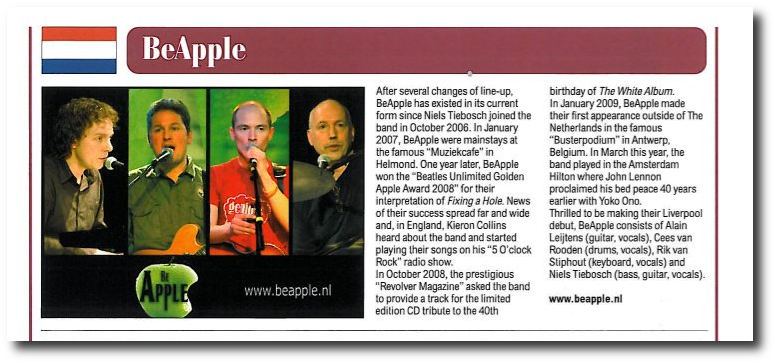 ---
April 5, 2009
BeApple headliner at Beatles Convention
The strong bond of friendship between the members of BeApple and our complete dedication to the band appear to be the right recipe for success. After a year the first concert is followed by a first price 22th March 2008. Our interpretation of 'Fixing a Hole' wins the 'Beatles Unlimited Golden Apple Award 2008'. The jury speaks highly of it. The extra 'Getting Better' is called "a just as successful version".
Now we will be the main act at the '30th jubilee Convention' 2009, April 13 in Utrecht (The Netherlands). Tickets at the door. Check our further agenda for the upcoming 'BeApple Liverpool Beatle Week 2009 Tour'. Read more at http://www.beatles-unlimited.com/category/convention/
Check our gigs list for the upcoming 'BeApple Liverpool Beatle Week 2009 Tour' !
---
March 22, 2009
BeApple plays at Amsterdam Hilton
(in contrast to previous reports)
40 years ago, the memorable 'Bed-in For Peace' at Amsterdam Hilton took place. John Lennon and Yoko Ono, his new bride, spent seven days in room 902, now called the John & Yoko Suite. From March 21 to 29 this legendary Amsterdam Hilton adventure will be commemorated with a three-part photo exhibition.
At Sunday, March 29 as a final piece of this memorable week, there is a special tribute concert dedicated to John Lennon, for all the fans of his music: 'The Lennon Memorial Event'. This one-off and therefore unique event takes place in Amsterdam Hilton from 2 PM to 7 PM. Of course with a performance by BeApple. Make sure you're there!
Dutch National Radio station AVRO will broadcast it Live from Amsterdam Hilton.
"Drove from Paris to the Amsterdam Hilton,
Talking in our beds for a week.
The newspapers said, say what're you doing in bed,
I said we're only trying to get us some peace."
---
April 2, 2009
Liverpool Beatles Week program launched
We are booked for four performances at the world famous Cavern Club, but also in the Jacaranda and the Adelphi Hotel. See the gigs list for exact days and times.
---
February 8, 2009
BeApple tastes the theatre
The point is made. The guestbook on our website doesn't lie. Saturday January 24 there was this Belgian gig at Buster. Antwerp enjoyed a (we quote) "fantastic performance". A new challenge is already set, even a double one. BeApple is entering the theatre for the very first time in Boxtel (The Netherlands) on Saturday, February 14. And not on their own. The stage will be shared with the Dutch 'Two of Us' duo. With two voices, one guitar and sometimes a flute, tambourine, harmonica and tenor sax 'Two of Us' knows to arrange The Beatles without losing the original songs. And that since 1975!
http://www.twoofus.info/.
The 'Podium Boxtel' theatre runs its third season and attracts a lot of followers in the region. http://www.podiumboxtel.nl/.
Saturday, February 14 – Podium Boxtel – Burgakker 17 5281 CH Boxtel (The Netherlands) – Doors open: 8 PM. Tickets by phone at: 003140 – 291 3444.
Come and see and hear us
MIND THIS!
At Sunday February 15, BeApple also performs in Soest (The Netherlands) at the 'Artishock Stage Plus program'. Artishock is a platform for talented performers and musicians. Talent is the key, not the type of act or music. 'Artishock Stage Plus' concerts vary from world music to light classical to pop.
---
January 18, 2009
BeApple looks beyond the national borders
To start with we would like to wish you all a happy, healthy and of course a very Beatlesque 2009.
This year we start performing with our southern neighbors. Saturday, January 24, BeApple is staging the well known BUSTER JAZZ CLUB in Antwerp (Belgium).
Come and see us!
Saturday, January 24 – 1 Kaasrui (also known as 'Grote Markt') Antwerp (Belgium) – Doors open: 8 PM
---