NEWS ARCHIVE
---
December 23, 2011
'So this is Christmas.
And what have we done. Another year over. And a new one just begun.'
BeApple started in November 2006 as absolute beginners. And now, five years later, we look forward to our thirtieth gig abroad. Without at first being aware of it, we created an unique personal Beatles experience in this short time. This brought us to special places in different countries. We met many people that we now have become friends with. Therefore we truly believe BeApple is five also thanks to you.
Of course we would like to celebrate our fifth anniversary with you all but this is obviously impossible. So we're launching a new website as a gift for you. This new website brings you the whole BeApple story from the inside. With unseen footage, old news items and new plans.
'We hope you have fun. The near and the dear one. The old and the young.'
Time flew by and we feel we have an exciting future waiting for us ahead. So forward your BeApple experiences to a friend. They are only a click away…
For now,
'A very Merry Christmas And a Happy New Year. Let's hope it's a good one. Without any fear.'
See you again in 2012
Alain, Cees, Niels & Rik
---
November 2, 2011
BeApple en France 'These are words that go together well'
When French culture was a trend John Lennon invited McCartney over to college parties when he was still in high school. Paul would try to fit in by sitting in a corner and pretending to be French. He played little tunes in French, but he only knew a few French words so he would groan or make words up. John told him that he should make it into a real song for Rubber Soul. So he asked his friend Ivan Vaughan, whose wife was a French teacher, for a French name and some words to rhyme with it. She came up with "Michelle, ma belle." McCartney added the next line, "These are words that go together well". They just chose the name because it sounded good. Ringo was really the most popular Beatle in France, possibly because he was the most French-looking of the boys. But none of the Beatles spoke French.
BeApple seems to be a most popular band in Ouistreham. Faithfully followed by the festival organizers since our gigs in Liverpool we finally appear at their stage at November 4 and 5. We will however not pretend being French or playing tunes in French. And even Michelle won't be with us. But you will hear songs from the Rubber Soul album, as well as many other fine Beatles tunes in the now familiar unique BeApple 'the beatles with a twist' style, just because it sounds good.
Curious about what this will be? Join us to Ouistreham, "Sont des mots qui vont tres bien ensemble".
---
September 27, 2011
BeApple at Belgium Beatles day
Saturday October 1 marks the 24th Belgian 'Beatlesday'. To be precise, it all takes place near the French border. This year's edition is dedicated to the first performances The Beatles ever did at the Cavern Club, now already 50 years ago. The famous background painting in the Cavern is transformed into a 2011 reproduction and serves as the perfect scenery for 20 bands from 10.30 AM to midnight. Largely in an open stage formula setting with performances of only a few songs which guarantees a rousing atmosphere. An atmosphere we were lucky to experience in the real Cavern Club in Liverpool for the last two years with 9 full gigs running!
From 6.30 PM the more serious work starts, including the Choking Smokers who we know from our recent gigs in Dundee (Scotland) last summer. But of course the Belgian Beatlesday wouldn't be complete without BeApple. Something not too difficult to estimate for this Belgium festival booking agents. They already knew more than a year ago.
Tickets 15 Euros, including admission to all performances. Students 10 Euros. Free for children under 12 years when accompanied.
The Beatlesday is more than just music: theme exhibitions, Beatles market, in short a great atmosphere in the spirit of Liverpool. Read more at http://www.beatlesday.be/
Saturday, October 1 – the 'Waux Hall', avenue Reine Astrid, Mons (Belgium) – Doors open: 10.30 AM
---
August 29, 2011
| | |
| --- | --- |
| | Hallo BeApple! |
Sunday, September 4, Muziekgebouw Frits Philips in Eindhoven starts its new cultural season. At the 'Hallo Cultuur' ("hello culture") opening event you will find a preview of the exciting new concert season. The halls and foyers offer plenty of Music from various genres. A full program including flamenco, classical Music, pop and singer songwriters. BeApple is also present and appears in the Rabobank Hall. Start 1 PM.
The Frits Philips Music Hall in Eindhoven is a modern building with international allure. It is well known for its unparalleled acoustics and top concerts in classical music, jazz, world and pop. Each year more than 160.000 music lovers find their way to this special venue in the heart of Eindhoven. That could well be a full house when we play 'The Beatles with a twist'!
Doors are open at noon. It's for free so grab your chance and enjoy!
Sunday, September 4 – Heuvel Galerie 140, 5611 EE Eindhoven (The Netherlands) – Doors open: 1 PM
info@muziekgebouweindhoven.nl
http://www.muziekgebouweindhoven.nl/detail/632/hallo-cultuur-
---
August 10, 2011
Additional appearance in Dundee, Scotland. We did not have to think long when the 'Scottish Beatles Weekend' festival approached us asking for another, extra gig. This means a promising Dutch extension of the extravaganza of the very best in live bands during the event. BeApple will now take the stage at the festival for no less than three gigs on Saturday August 13 and Sunday August 14.
Make sure that you get your tickets in time. Book your places now, at what is to become another great annual event on the impressive Beatles calendar. So why waiting to get there for only £20, at http://www.scottishbeatlesweekend.com/tickets
Our schedule:
Saturday 13-8, 13:30, Fat Sam's, stage 1
Saturday 13-8, 18:45, Fat Sam's, stage 2
Sunday 14-8, 23:00, Duke's Corner
---
July 14, 2011
BeApple Discovers Scotland, Scotland Discovers …….
A nation's artistic and cultural life says much about its people and the vibrancy and creativity they display. In successive generations, Scotland has produced writers, painters, dancers, composers and musicians whose talents have received both national and international acclaim. All have the power to enthral, challenge, provoke and inspire.
Now we are invited to join the Scottish cultural life in an extravaganza of the very best in live bands during the first Scottish Beatles Weekend. BeApple will take the stage at Saturday, August 13 and Sunday, August 14 in the beautiful city of Dundee which then will host Beatles fans from around the world.
No need to say that you better make sure of your places at what is to become another important annual event on the impressive Beatles calendar. So get your tickets, just £20, at http://www.scottishbeatlesweekend.com/tickets
See you soon in Dundee!
---
May 5, 2011
BeApple hits the Theater
Playing in Eindhoven feels like playing a home game, and a lot of those have been played recently. We're moving in an upwards spiral and we like to keep it that way. Since 2007 we have been promoted from Stadscafé to most recently the Wim van Doorne Muziekkiosk, only a couple of yards away from the Parktheater. And that feels good.
In 2010 we got a taste of a similar situation: we felt very much at home on the stage of De Kersouwe, and from that moment we got caught by the idea of developing a theatre concept.
This year, we won't be appearing in Liverpool, but instead we will spend more time and attention to create an even more personal sound, including our own arrangements. "BeApple plays the Beatles since 2007", but from now on we are creating our own story around this concept.
On Sunday May 15 we will be offering you a teaser. There will be plenty of room in front of the stage, and with a prospect of "Sunshine" it will definitely be a "Good Day"!
Sunday may 15th, Wim van Doorne Muziekkiosk, Alberdingk Thijmlaan 1, 5615 EB Eindhoven, 14.00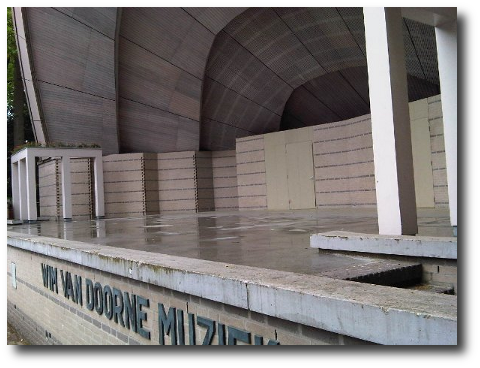 ---
4 maart 2011
BeApple Beats Buster
Sometimes you would like to turn back time. Some moments were that special that it is worth experiencing them once more, some "first time ever" moments. So, why don't you?
The First time ever we played abroad we won't forget that easy. It was January 2009. Of course only the simple fact that we would soon pass the Dutch borders was almost enough to get that special 'wow' feeling. But it also meant that we had to arrange things in a different way. Hiring a van, travelling on schedule.
We don't look upon our 2009 Buster gig as one of our best but it certainly marked a new episode in the BeApple story. That year we also shipped in for England and saw ourselves with airplane tickets for Argentina, all for the sake of our music. From that moment we got a taste for the abroad gigs and they got to know BeApple. Right now we even need to make choices where to go and not to go, which is not always the most easy consideration.
The 2009 Buster show is taped entirely. One of the takes, a rather free interpretation of Come Together, was released on our 'Live and More' CD. Against all expectation reviews were rather good. So why not do it again on Saturday, March 19 and experience another Buster recording session?
Saturday, March 19 – Buster Jazz Club, Kaasrui 1(Grote Markt) – Antwerpen (Belgium) – Doors open: 9.30 PM
---
January 21, 2011
BeApple back in Artishock
FROM THE ORIGINAL PRESS RELEASE"If you were there in Artishock last time you definitely will remember the Beatles revival BeApple unchained. Now, exact two years from this memorable gig they are back in the house. Sunday, February 13 there's your second change to experience the fab four repertory in a way you won't see often these days. Also this time we need to advise you to decide now, for we will sell out again!"
The gig we did in Soest in 2009 is still fresh in our memory. That day nothing could go wrong. Everything looked as if we had just come out of a bandbox. Of course such things start with not knowing where you end up. Where we always have to go downstairs in Liverpool, we had to go upstairs in Artishock Soest. Of course this is no comparison at all. Total different locations, unparalleled greatness. But it may be true after all, also in Artishock we do like to come back. See also: Artishock Verenigingsberichten Februari 2011 (in Dutch)
Tickets € 10,- to €7,50 (members only). Reservations via PodiumPlus@Artishock-Soest.nl or 0031356024951 Sunday, February 13 – Artishock, Steenhoffstraat 46a, Soest (The Netherlands) – Doors open: 3 PM

---