---
For over 15 years BeApple is well known for their remarkable approach. From the very beginning these Dutch 'Eindhoven four' knew they never wanted to be just another Beatles tribute band. Over the years this has given the band some fantastic performances in special places around the world. Something they had not dared to dream of in the beginning. But this band has something special that literally takes them far.

FORMATION
At the end of October 2006, four enthusiastic Beatles fans, all of them experienced musicians, started BeApple. From the very first moment they were like pieces of a puzzle despite the fact they had never met before. Until April 2022, BeApple's staffing has never changed, which has guaranteed a strong foundation.

The very beginning, November 2006: 'De Oefenruimte Helmond'
MEMBERS
Current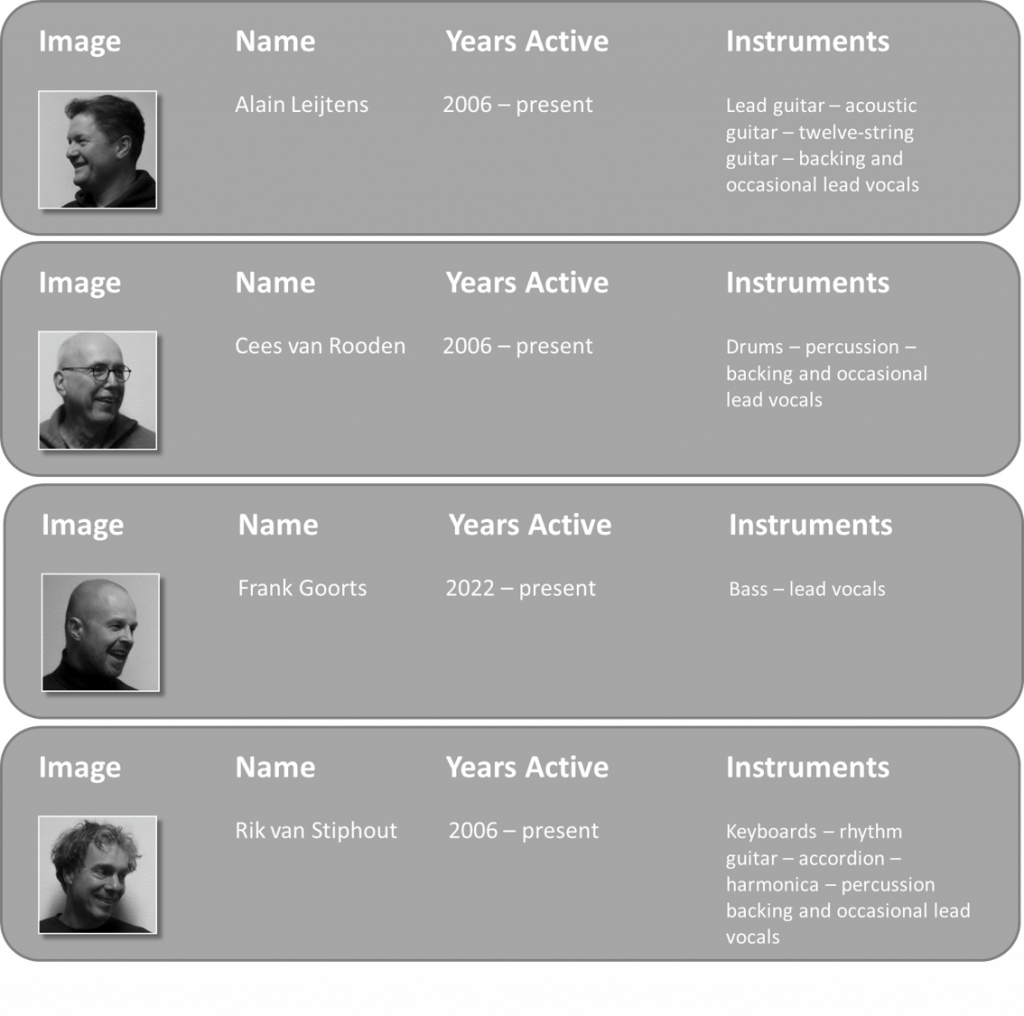 Former


RECOGNITION
With only 15 songs only half finished BeApple's first appearance as a main act is at the well known Muziekcafé in Helmond (NL) on March 16, 2007. BeApple's interpretation of Fixing A Hole hits the mark, it highlights the start of what we now know as BeApple's "The Beatles with a twist". At the time this attracts the attention of English radio man Kieron Collins. In his '5 o Clock Rock Show' the song is played on a regular basis.
On 22 March 2008, just over a year later, BeApple is awarded the 'Beatles Unlimited Golden Apple 2008′ for their reworking of 'Fixing A Hole'. The jury praises BeApple's original finale of the song, which means leaving the other four finalists behind. The encore Getting Better, is rewarded an 'equally successful version'.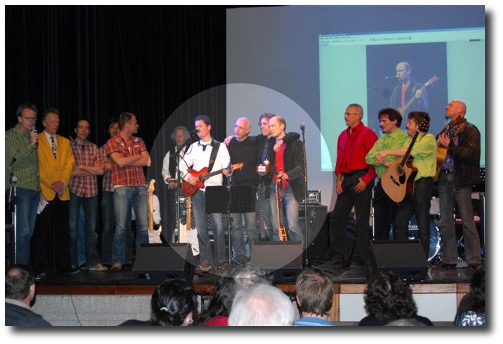 Winner of the Beatles Unlimited 2008 'Golden Apple Award'
Later on the highly acclaimed 'Revolver Magazine' (today 'Revolver's Lust For Life') asks BeApple for a contribution to a special White Album 40th Anniversary compilation CD 'Het Witte Album'. It's clear this should be Mother Nature's son. BeApple reworks the song in less than a week. A challenging job, knowing it is a daring combination of the studio version with variations from unique existing Beatles demo's, live (Paul McCartney) performances with accordion and close harmony singing in a King Singers style.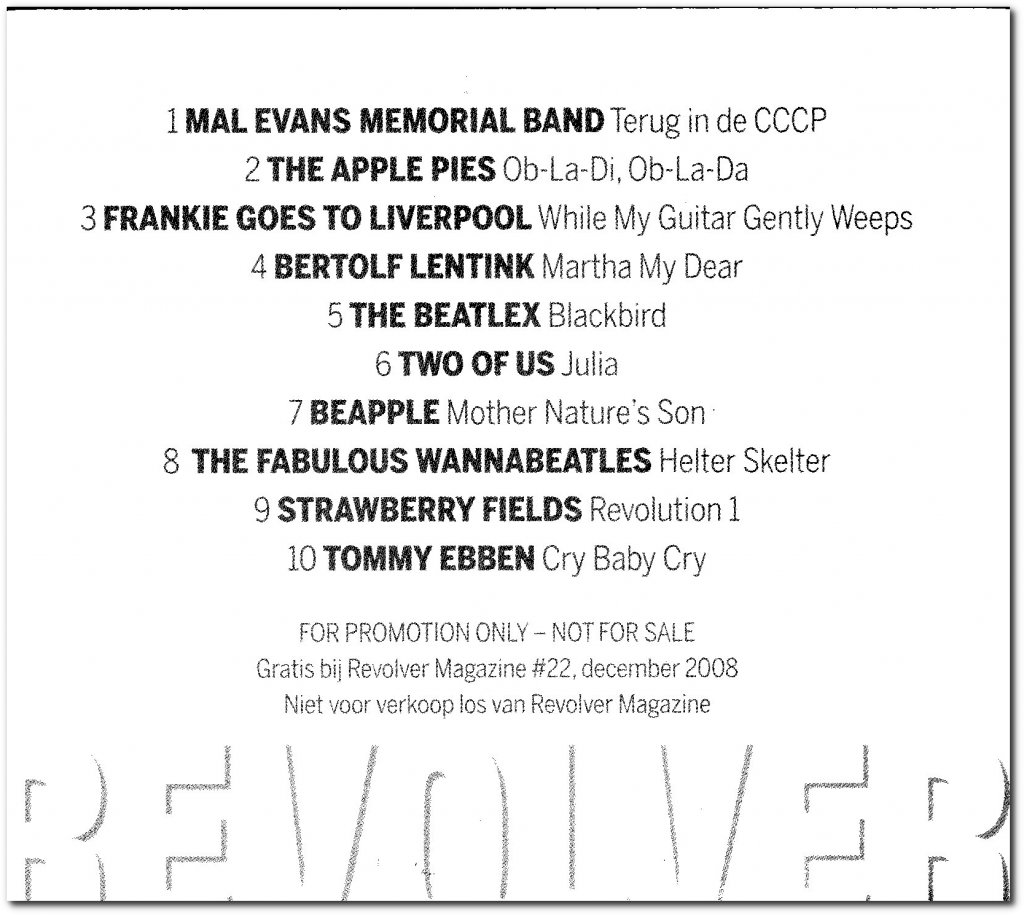 'Het Witte Album' Revolver, No. Dec 2008
STEPPING STONE TO CAVERN CLUB
In November 2008 BeApple records A Day In The Life with a large accordion orchestra with a large accordion orchestra. A homevideo of this exceptional experiment made by a fan is still to be found on Youtube.
Then abroad beckoned. In January 2009 BeApple has their first gig abroad in Antwerp Belgium on the famous 'Buster Cultural Platform', well known for their artistic laboratories. Within a month after that 9 gigs in Liverpool are confirmed.
As if that wasn't enough, BeApple also appears at the Lennon Memorial Event in Amsterdam Hilton in March 2009, the conclusion of the legendary John and Yoko Bed-in for Peace memorial.

During the 2009 Beatle Week from August 26 to the 1st of September BeApple attracts international attention. A request from Austria to play a gig directly after these nine ones has to be cancelled, it's all too fast. In October a similar request follows from Argentina. An offer they can't refuse. At the end of November all 4 gigs in Buenos Aires are sold out.
BeApple 'The Beatles with a twist' enters a new phase in their short existence. What started in 2006 as a kind of experiment turns out to be a good guess. Half of their gigs nowadays are outside the Netherlands. BeApple plays their thirtieth show abroad in January 2012 in Tampere Finland.
MUSICAL APPROACH

In honor of the fiftieth anniversary of 'Love Me Do' in October 2012, BeApple reworks this first number one Beatles song for the Beatles Story Museum in Liverpool to proof this. In fact, this shows the band members' unwavering enthusiasm to reinvent their rendition of The Beatles over and over again.
Today BeApple is acclaimed for their unique approach in the Beatles tribute scene. The 'Eindhoven Four' succeed to touch the atmosphere and the character of the original recordings in an unique personal way. BeApple's "The Beatles with a twist" might be close to the sound of the fab four translated into the twenty-first century.
BREAK-UP AND RESTART
After more than 125 performances since 2006, we suddenly arrived in 2023. A special moment after almost three lost years. As with almost everything, Covid-19 has also left its mark on BeApple. Since the beginning of 2020, the performances can be counted on less than one hand and that hurts. BeApple's performance on Saturday, November 27, 2021 turns out to be the last performance in the original line-up. The sparks fly, but that same evening a new lock-down period will start that will last another half a year in which almost nothing is allowed or possible.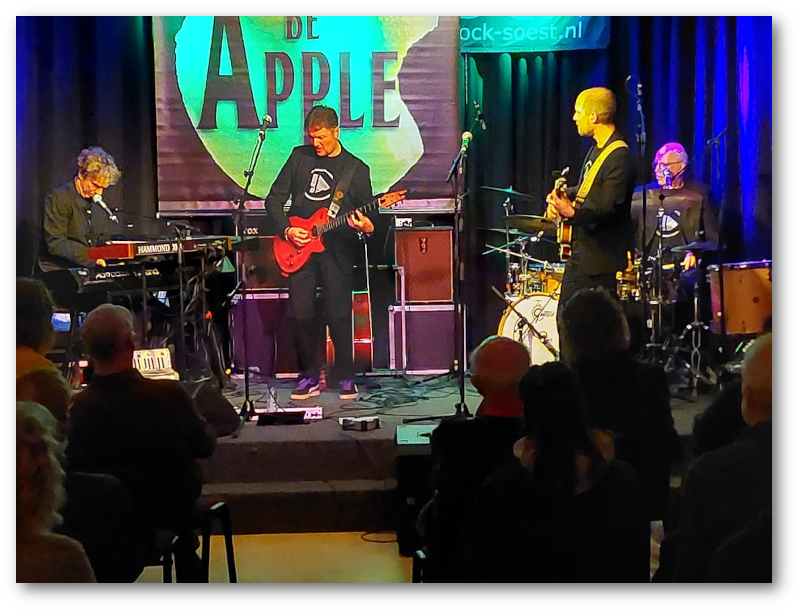 Last show in original line-up, Artishock Soest – November 27, 2021
To make a long story short, in April 2022 one could feel that we forgot to keep the clocks to the correct time to be able to continue in unison. A tough summer lies ahead for BeApple. For the first time in BeApple's history, there is a personnel change (October 2022). And that again means a fairly different sound than you would expect at first glance. BeApple remains BeApple and even now we don't shy away from going off the beaten track of the Beatles tribute circuit. The 'twist' of BeApple has evolved into an 'out of the box' approach of The Beatles.
Beatles never get boring and BeApple proves that it still knows what to do as a live band from 2023 and beyond: remain surprisingly resourceful!
BeApple's name is a mix of the Fab Four's name and the record label founded by them. The Beatles founded Apple Corps, with a green apple (Granny Smith) as their logo, in 1968.